File Under: Stuff to smile about

Enough ranting and whining, this post is about things that make me happy.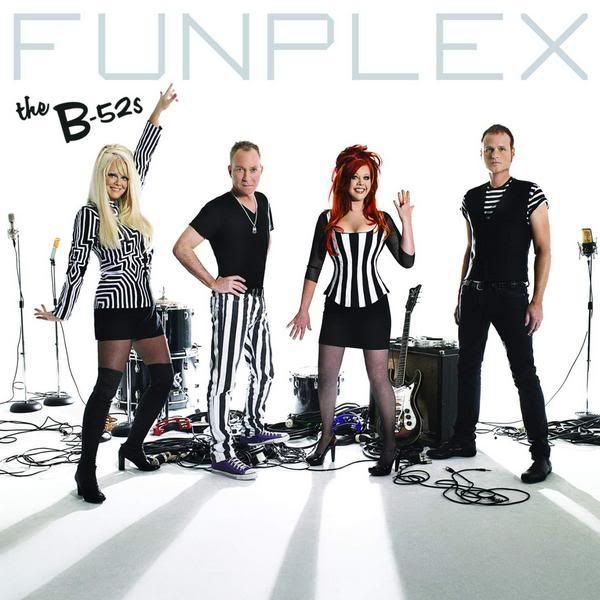 The B-52's. I've always loved them, their music is always fun and it makes you want to move. Finally after 16 years, they're releasing a CD of all new music. Funplex is due out at the end of March. The title track, Funplex, is already available on iTunes. I love it. A second single, Hot Corner, is available on Rhapsody (free, for a limited time). YAY!
Pasticceria Natalina. This is a bakery that opened in my neighborhood about a year ago. It's run by an adorable young couple, Natalie and Nicolas and they make the most exquisite bakery treats that are anything but your typical bakery goods. Delicious cookies, tasty tarts, gorgeous little cakes, savory breads and in the summer they also make homemade gelato in assorted flavors. My favorite item from their shop are the lemon cookies.
Saturday, my dear friends Dan (
http://www.41north87west.blogspot.com/
) and Luis hosted a small dinner party and I brought dessert from Pasticceria Natalina. It was a chocolate cake with raspberry filling, draped in tinted white chocolate. Here's a picture of it!
Pretty, huh?

Next time you're in the Andersonville neighborhood in Chicago, check out Pasticceria Natalina at 5406 N. Clark Street. But not on Monday or Tuesday, they're closed. :)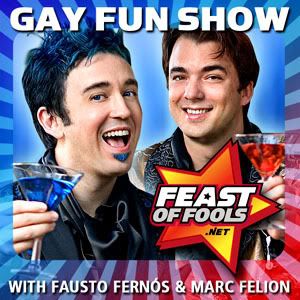 Feast of Fools podcast. I could try to describe it myself but I'll let the guys do it in their words, swiped directly from their website.
"The Feast of Fools podcast features cocktails, gossip, news and interviews with some of the worlds most eclectic celebrities, newsmakers, and musicians. Hosted by the flaming blue Fausto Fernós with his boyfriend Marc Felion, the Feast of Fools has been in the top 50 downloaded comedy podcasts in the world and currently ranks as iTunes' #1 gay podcast."
A couple years ago, I subscribed and would occasionally listen. I was always entertained but hadn't made it a habit to download the podcasts. My friend Dave from Tampa discusses them often so I made a point to listen regularly and now I don't miss a show. What's kind of cool is that they guys live in my neighborhood and we all belong to the same gym so I've had the chance to chat with them both and they're two of the sweetest guys you could know. Here's a picture of me with them taken in the summer of 2006. I was working a booth at our neighborhood street fair and they came by.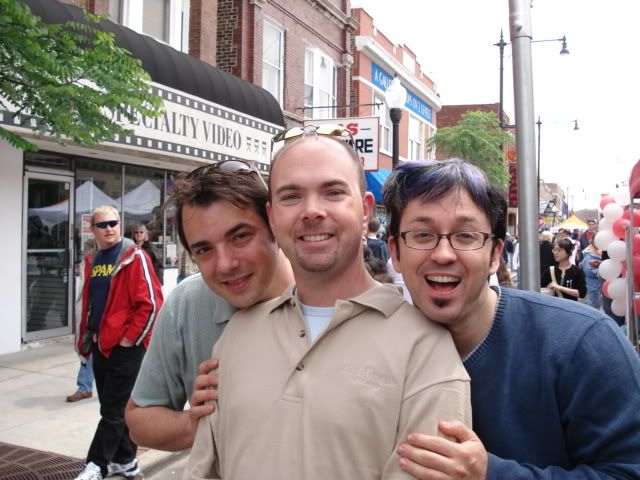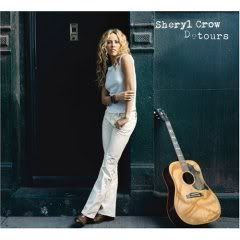 Sheryl Crow - "Detours." This is her latest CD. It's a return to her roots. After an eventful couple of years (a breakup, a bout with cancer, adoption, a move and a reunion with the man who produced her first album), she's back with a CD that is truly a labor of love. It's not an album you'll play and immediately start dancing to. Instead, you'll listen to the lyrics and thing about what she went though without feeling as though she's been a victim. I've always admired her as a musician and and artist. I'm not the least bit disappointed with this CD.
March. Yes, I like the month of March, because it's not February. It's kind of like the light at the end of the cold winter tunnel. Spring begins in less than 3 weeks and while that's no guarantee that we've seen the last of cold weather and snow, it means that whatever we get is short-lived. I'm ready for spring.
Your turn! Tell me what makes you happy. Go on, you know you want to!