File Under: Music Obsessions

Another post about The Go-Go's. C'mon, you knew it was going to happen. My previous post was all about them, and about seeing them again. Last night was show # 25. I was not disappointed.

The evening began with my friends Anthony, John and of course Vahona meeting at the House of Blues. We sat down and had some dinner. We exposed John to full-on Go-Go lunacy. Thankfully he was not scared. We finished dinner and went to our places in the theatre. I had two reserved stools for the evening. We were on the main level, stage left, about 20 feet back from the stage. Vahona and Ant were down in the trenches, stage right, in front of Jane's spot.

Many of the regulars were in attendance, familiar faces from past shows. It was nice seeing them, and catching up with them on their lives, sharing a laugh, sharing our excitement for yet another show.

The opening act was a band from Madison, WI called "Whore du Jour." They're a band whose first album is being produced by Jane Wiedlin. Not 2 minutes after saying to John "I wonder if Jane will come out and introduce the band," Jane came out to introduce the band. As she looked over the crowd, she looked my way, did a double-take looked at me, smiled and waved. :) Whore du Jour was good, but they're not the reason we were there.

The Go-Go's came on at 10. They looked great. They sounded great. Their on-stage banter was funny and their interaction with one another was fun. They performed 19 songs, their setlist was an even retrospective of their career.

The real fun happened after the show. I secured after-show passes for us and apparently very few passes were handed out. Now, my last after-show experience at this venue was a 2 minute chat with Kathy and Jane in an upper balcony. I wasn't expecting anything more last night. Well, I was wrong. We were ushered to a freight elevator, taken upstairs and told to go through a doorway and turn right. In we walked and seated was Belinda. Looking stunning and relaxed after an energetic show. Charlotte was in the room, she and Bradford (the band's manager) were chatting. There was a moment of stunned silence, only broken when she said "Hi." There is a bit of blur surrounding all that took place but Bradford introduced himself to me, then learning just who I was (I had contacted him to obtain the passes), he asked me if I'd met the band and began introducing me to Belinda, telling her of my efforts with the Star Fund (I'm part of a committee working to secure a Star on the Hollywood Walk of Fame for The Go-Go's). We chatted about that for a couple minutes and Belinda quipped "well, now that Johnny Grant is dead, maybe we'll have a chance." We all laughed. She thanked me for all we've done. Jane and Kathy came in and both of them came over to give me hugs.

We chatted with Jane the longest, about her move to Madison, about Whore do Jour, about her boyfriend who is in the band, and about how much fun can be had in Chicago. I suggested that she contact us to arrange a visit to Chicago an let us show her around. As quickly as I said that, she whipped out her iPhone and said "okay, give me your phone numbers!" So we did. We'll see if she calls. I'm guessing she'll drunk dial one of us. At 2 am, Vahona's phone will ring, and there will be this slurred pixie-like voice saying "hey baby, what are you wearing?" I'll probably get a call saying "Is your refrigerator running? Well you'd better go catch it! HA HA HA HA HA" *click*

We took one group picture, here it is: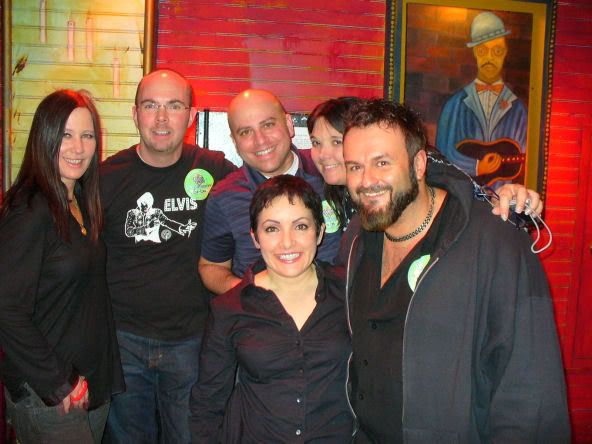 (complements of Anthony)
Kathy Valentine, me, John, Jane, Vahona, Anthony.
As I've been known to do, I brought my Gnome. John brought his too. We giggled as we took them out of our pockets and set them on the table in the room. Belinda looked down and noticed them. She was definitely intrigued. She kept looking. I saw curiosity and amusement in her eyes and a slight smile on her face. Or it was "oh Jesus, get me away from these fucking losers." I think it was more the former than the latter.

Jane saw the Gnomes and decided they looked tasty. So here's the 2008 version of the "let's do something wacky and eat the Gnome picture."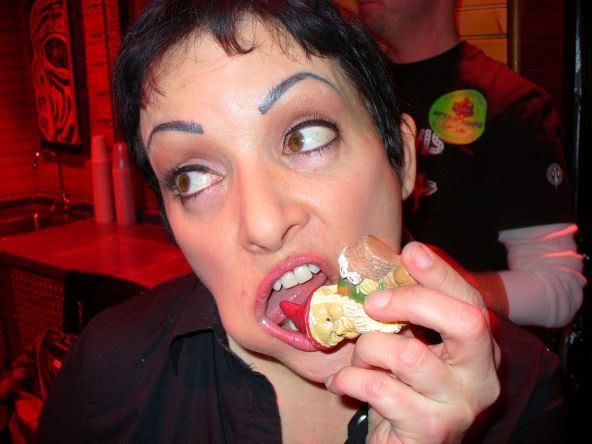 And with that, our evening ended. We gathered our things and went home. I was awake until almost 2 am, giddy from the excitement of the evening.
I awoke at 5:45 this morning, got out of bed, got ready for work and was at my desk at 7:30 am. My ears are still ringing, my throat still hurts and the entire city is under a winter storm warning but I'm in a really good mood right now.