File Under: Friends
Who says that your friends are people who you see in person on a regular basis? Thanks to these things called computers and the internet, you can make friends with people around the world. Well, DeDe doesn't live around the world, she lives San Jose, CA. Thanks to The Go-Go's, DeDe and I became friends.
I was first introduced to DeDe through another friend who I met in line at a Belinda Carlisle show in 1990. She told me about this woman in California who published a fan magazine for the band and told me to contact her. I did, and we conversed by mail from time to time.
Not long after, I got my first computer with all the bells and whistles, including a modem. I signed up for AOL, and soon after I found a Go-Go's message board. DeDe welcomed me with open arms. It was fun back then, there wasn't a lot to talk about since the band had been disbanded for some time but the individual members were doing solo things and there had been rumblings of another reunion. The message board was fun as there were regulars on there - DeDe and I, along with Doug, Melissa and Joseph. More than the rest of the people on the board, I became friends with them.
DeDe asked me to become a co-editor of "Beatnik Beat," the Go-Go's fanzine. I answered letters and wrote a column for each issue. It was fun having a bit of an "inside peek" into the lives of the band members. We got each of them to do interviews for us, we wrote questions for them. DeDe, being a California girl, would go to shows and get autographs and memoribilia and send things to me.
In 1999, The Go-Go's announced a reunion tour, all of the dates were taking place on the west coast. Thanks to DeDe's prompting, I flew out to San Francisco and began a week-long journey during which time I saw 4 shows. Best of all, I finally got to meet DeDe in person and it felt as if we had been friends for a lifetime. Good thing, considering we were spending the next few days together, much of that time in a car, a van, or on an airplane. Our adventure began in San Francisco, then I went back to San Jose for the night. The next morning we drove to Los Angeles where we spent the night. The next day we drove from LA to Santa Barbara where we spent the night. The next day we drove back to LA, directly to LAX where we boarded a plane bound for Las Vegas. The entire trip, was filled with laughter and good music, and rubber chickens. There were as many of 7 of us along for the ride at one point (hence the van).
DeDe was the original designer of
http://www.gogos.com/
, the band's original website. She became privvy to some of the band's graphics for the CD they released in 2001 (God Bless the Go-Go's, the band's first collection of all-new music in 17 years). I provided some ideas for the website and became a collaborator both with her and with a couple of the band members. 2001 was another year of travels where DeDe and I got to spend time together.
Our next adventure was 2003, a long weekend in Vegas at the Las Vegas Hilton. More of the same laughs, music and a trip to the Liberace museum for good measure. Vahona was along for that trip, as were may of the other regulars who I'd known from the message board.
Most recently we got to hang out in January 2007, again in Vegas. The most exciting part about that trip was seeing DeDe's transformation. Having been challenged by weight issues, she finally made some drastic changes and was well on the road to finally losing a significant amout of weight. I think I spent the most amount of time with DeDe during that trip. It's as if there's a need for us to make up for lost time, and I have no complaints about that.

I'm happy to report that as of her 1-year anniversary from when she embarked on the weight loss journey, she took off 80 pounds. She's still going and she looks amazing. GO DeDe, GO!

This is a picture of DeDe and I upon my arrival to Las Vegas, January 25, 2007. GOOD TIMES!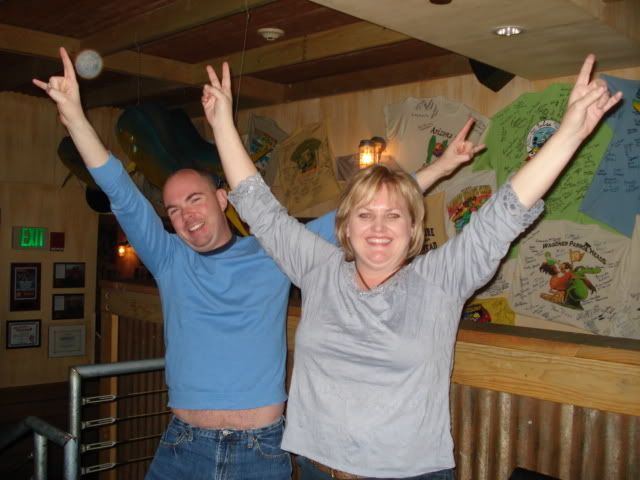 I'm sure there will be many, many more good times in the years ahead!