File Under: Friends from far places
In addition to Patrick's surprise 40th birthday party, I had friends visiting from out of town.
I met Steve back in 1997, via an online message board. Both of us are Belinda Carlisle fans. He posted a question on an AOL message board and on a whim, I emailed him and answered it. I love chatting with fans and figured it could create an opportunity to meet another fan. Good move on my part. Steve and I became instant friends and have stayed in touch ever since. He lives in New Jersey. I've visited a couple times, he's been here a few times. The last two visits, he brought his partner, Eddie. He's sweet and adorable and very funny.
Friday evening, we went to Ole' Ole' for dinner, then met up with Patrick where we made the round of Andersonville and Rogers Park bars. It was a very fun night out with the boys.


Sunday we got together again, this time for what seems to be an annual tradition, afternoon drinks at Sidetracks. The last time they were here, it was winter and some how a large group of us gathered at Sidetracks. We began drinking at about 3 and didn't stop until around midnight. To this day, Patrick and still talk about how fun we had that night. While yesterday's event was a smaller group (another friend, Travis joined us), it was lots of fun. As it was a work night, we ended a bit earlier, Patrick and I left shortly before 8 to have some dinner.
Here are Eddie and Steve. Gnome was along for the ride and met the boys.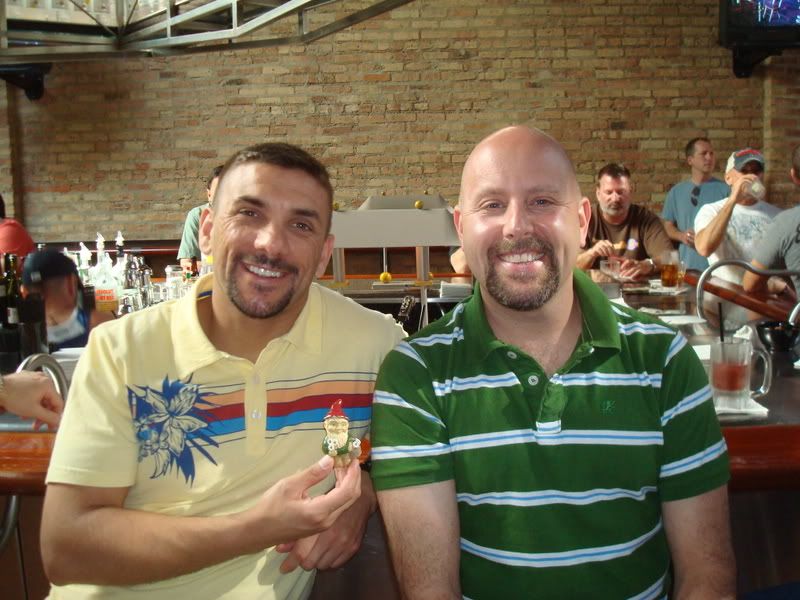 Patrick left the house with his sunglasses but not his regular glasses. As a result, he couldn't see much when he took off his sunglasses. Here we all are wearing our sunglasses, just for Patrick.
Good times! I miss those boys already.