File under: Friends

As I said in my intro, I plan to introduce you to my friends, we'll call them the cast of characters in my life. These are my partners in crime, my travel companions, my shoulders to cry on. Later on, as I mention these people in my stories, you will get to know about about them, too.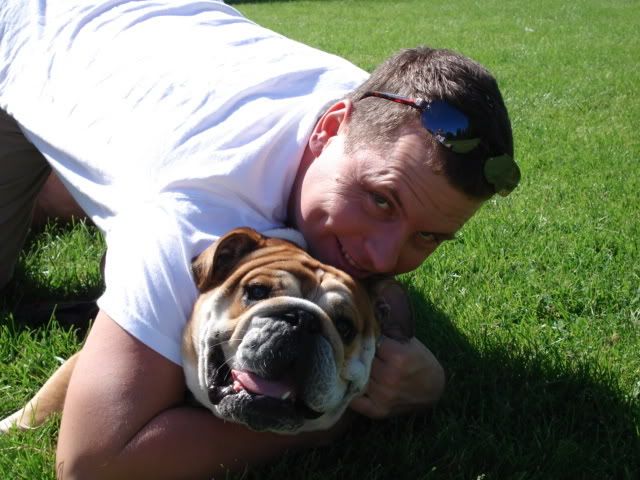 Today's featured friend is Dan, my best friend. We met close to five years ago after I began frequenting a bar that he often visited. After sitting in the same spots week after week, he finally turned towards me one night and said "You sit here week after week, listening to our conversations, you may as well tell me your name so that I can include you in the conversation." I looked over my shoulder to confirm he was talking to me. He was, I introduced myself and then he smiled and said "It's nice to meet you, I'm Dan."
We chatted regularly, as we would see each other at least once each weekend at the bar. Pretty soon we were hanging out. He gets me, I get him. We're so much alike in some regards but polar opposites in others. We complement each other perfectly. In fact, he was there when my "Proper" monicker was born. Mind you, he laughed when he heard it applied to me.
Dan's partner is Luis. You'll learn about him soon. Pictured above with Dan is Ozzie, Luis' Bulldog.
To learn more about Dan, check out his blog, 41North87West. Dan has an opinion about everything and isn't afraid to speak his mind. Whether you agree or disagree with him, you can't help but admire the fact that he isn't afraid to call it like he sees it. A link to Dan's blog can be found at the bottom of this page.